Get More Soundcloud Plays With These 6 Simple Techniques
---
We all want our music to be heard, but it's not always easy to get it out there.
So here's a list of 6 simple ways to get maximum exposure out of your new music and get more plays on Soundcloud.
1. Properly Title & Tag your song.
First impressions mean a lot, and a properly tagged song can make the difference in getting played or skipped over.
Track Title: Make sure your track is properly titled. If it's an original, put (Original Mix) after the name.
If you're offering a free download, add [Free Download] to the end of your track title. This is the only way for people to know that your song is available for download from the Stream. Many people won't even listen to a song if they don't know if it's available for download, so this is important.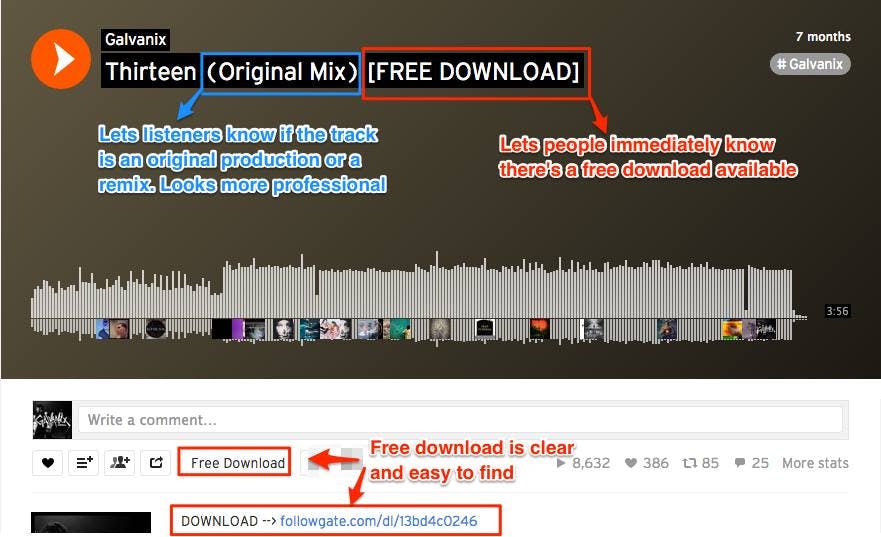 2. Post your track onto the appropriate Subreddit
Reddit is a global website that aggregates and curates user submitted links. Links are categorized by "subreddits", which are sub-communities on Reddit, such as /r/Music (A generic subreddit for music), /r/funny (A collection of funny images, videos, and stories), and more.
Without getting too in depth (The details of Reddit could take up an entire blog post - maybe that'll happen in the future), it's best to post on a Subreddit that has an active community, without being too large. It's better to be at the top of a slightly less active Subreddit, than to be lost in the noise of a popular one.

For example, if you have a dubstep song, you're likely to have more success posting it to the specific /r/dubstep Subreddit vs. /r/listentothis, which is for any genre.
Even though the former Subreddit has 4 million subscribers, it's unlikely that your song will surface to the top with such a broad audience.
In this example, it's better to post to the /r/dubstep subreddit, or even /r/chillstep or another more specific subreddit. Just keep an eye on the number of subscribers and current viewers to make sure that the subreddit is active and being browsed.
The communities on Reddit are very particular, and the individual subreddits all have their own rules and moderators. Be sure to read the sidebar of each subreddit before posting to be sure you don't have your submission removed.
The music subreddits divide out into many different groups, including:
/r/WeAreTheMusicMakers - A community of music makers of all genres.
/r/EDMProduction - Dedicated specifically to EDM Production, samples, and tutorials.
/r/Dubstep - A place to share dubstep tracks and mixes.
/r/Electronicmusic - A place to share, learn and talk about anything electronic music.
Here's a full list of all of the music Subreddits: https://www.reddit.com/r/Music/wiki/musicsubreddits
3. Submit your song to blogs & DJs
Most blogs have a submissions form or email. Some DJ's also accept submissions for songs to use in their mixes and DJ sets.
Getting placement in a DJ set is an underrated method of getting your music noticed, as it exposes you to an entire group of potential new fans.
Receiving blog placement has a ton of benefits. It gets you in front of a new audience, and oftentimes a blog post will continue to give you new plays for months, or years to come!

If you get posted by a blog on the Hype Machine network, it opens up a wealth of exposure opportunities, especially if you make it to the coveted Popular Page.
I've personally garnered thousands of plays and hundreds of new fans from briefly making it onto the popular page. So if your track makes it onto hype machine, make sure to reach out to your fans and friends to "heart" your track and help boost your ranking.
Here is a full list of all of the blogs on hypem: http://hypem.com/blogs
Be sure to follow each individual blog's submission guidelines. As a blogger myself, nothing turns off a writer more than an obviously mass emailed copy/pasted submission, or a submission that doesn't fit our blog's posting style and genre choices.
4. Post your song on all of your social networks
You've built up all of those social networks, so make sure you use them.
If you don't have all of your social networks, you need to set them up right now! Seriously. Before even continuing on, make sure you have your Instagram, Youtube, Twitter, and Facebook Page all set up. Everyone has their own choice of social network to use, and it's important to be available on all of them.
Here's a great example on how to format a release post on Facebook.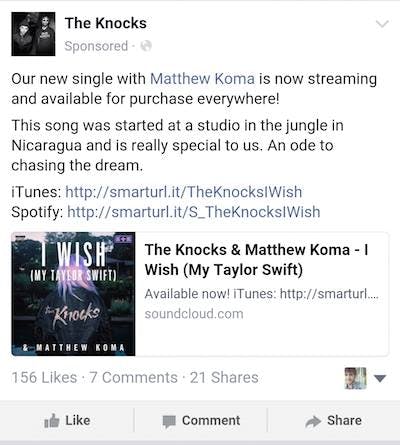 This is a release post by The Knocks. Sponsored posts get more views than regular.
There are other networks, such as vine, periscope, snapchat, and more which are all useful as well, but these techniques will focus on the "big four".
Use artwork.fm to create a video for Instagram & Youtube for free.
Note: Be sure to link back to your song/download in first line of your video description. Follow the same guidelines as Soundcloud regarding your track title & tagging.

5. Ask your fans to repost your track in the description.
There's no shame in asking your listeners for support. People often won't think twice to like or repost a track.
If you remind your fans that they can help you by reposting, they'll often respond kindly.
"If you dig the track, press repost to share it with your Soundcloud fans! Your support means the world to me."
This simple reminder will easily make a huge difference in the spread of your music.
6. Email your fans about your newest release
If you've collected emails from your fans, don't forget to actually email them!
Many people start collecting emails, but never actually send an email out for fear of getting unsubscribes, or they simply just don't know where to begin.
As it stands, emails are the only way to reach your fans directly without being filtered by an algorithm or having the perfect timing to reach their feed right when they're looking.
Mailchimp is a great email service that lets you send emails to 2,000 subscribers for free, and it's pretty easy to use.
7. (Bonus) Use Followgate To Build Your Soundcloud Followers
The more followers you have, the more exposure you'll get for your new uploads. This tip can help you get more followers on Soundcloud using your current uploads and new releases.
Followgate is a dedicated platform that makes it easy for musicians to build and reach their audience. It's free to use, and offers a Pro level account that includes additional features such as collecting emails, Spotify followers, and more.
Creating a "Follow to download" landing page on Followgate takes less than a minute. The resulting page loads quickly, and provides search benefits on top of its fan building capabilities.
All you need is a Soundcloud stream link, a download link, and an email address.
Click here to get started and make your free "Follow To Download" page.
Use these steps as a guideline to help maximize the potential of your new releases.
If you have any questions, feedback, need clarification, or just want to say what's up, drop us a comment below.